neighbors
it has to be a month and a half ago at this point when neighbors came to me with their new ep hellomind. i'd heard bodies a long time before that, as it was on a little sampler they'd passed out possibly earlier this year, and i know it'd been on the 'net for a while. now that i'd finally gotten my hands on a half dozen of their songs, i was excited to see where else the band would go with their sound. i'd seen jordan and tommy do their thing on a couple other bands, and with the new project in tow, it seemed like they were going in yet another new direction. but i wasn't ready to see just how far they'd come when i threw this disc on. vocally, it's confident and controlling. in whole, the entire style has grown to an umbrella that no longer solely covers the niche underground long island music scene, but is aiming directly towards larger rock markets. i'm sure the comparisons are endless, but it's got to be mentioned in order to know where the torch is headed: these guys are placing themselves directly in the recently abandoned position that envy on the coast had left hanging in the air when they disbanded. i've actually had some unique reactions when showing some friends who aren't into the "scene" type of music, and have been getting some outstanding reactions, especially from the soulful guitar playing that dominates the canvas. in fact, during that band's final outing at irving plaza, dave was there and when he came back he was saying that he was blown away by their live performance, the one piece of these guys i have yet to check out. you and i will have an opportunity to scope that out this friday at the vibe lounge when they head out with cassino and night fevers, another long island band who is still holding the local fire high and proud. come THROUGH. contact one of the bands (here for neighbors or here for night fevers) to grab tickets!
this is hell
i'm late to the game on this next one, big time. i mean, the band i've known about forever. from the old monikers the heist, scraps and heart attacks, and then through sundowning and misfortunes, yeah, i've been down. but... son. SON. this new record, weight of the world? good GOD. already in my discussion for record of the year. the production on this record alone makes this record jump from the niche hardcore scene where its made its presence felt to the forefront of aggressive music. the riffs are some of the best i've heard from the band and each track has at least one moment that grabs you, knuckles white. this record has taken what the band has done in the past and taken the best pieces of all of what they have to offer and have put it into overdrive. please check this record out. if you need a shove in the right direction, check out the video for 'bloodlines' over here. these guys are currently on the ap tour with bring me the horizon and august burns red, and will be in the area on november 24th.
fallout: new vegas
and lastly, i wanted to talk about a game i've been waiting for for a while... but had been extremely skeptical about. i'm not sure how deep i went into how badly addicted i was to fallout 3, but it was triple digit hour input nuts. nothing like you world of warcraft dudes, for sure, but for me? christ. a way of life. and for them to release another one of these was almost too good to be true. there was and is no way they recreate the fresh experience of those moments again, the open wasteland and getting completely lost in it. the story was something engaging and continuous, and tied you in emotionally. and this time around, it's hard for me to review the game specifically without knowing that you've played the third. but that's just it. if you haven't played fallout 3, i recommend you do NOT play this game. you're going to be giving yourself a cheaper experience. for those who have, yes, i just said that. new vegas gives you a storyline that is less involved, less exciting, less emotional, and overall less important-seeming than the one that came out a couple of years ago. i've put in about six to seven hours time already, and to be honest, i find myself not even caring what happens next. and for this game to be doing this to me storytelling wise is heartbreaking. however. the game itself does everything that fallout 3 did correct and then some. they kept everything the same. but now there are factions that break down your karma a little bit more than the first one did. your actions are not just lumped into good and evil. some will love you and some will hate you. again, i am 7 hours in, and i have only kind of heard rumors and a few lines of dialogue involving vegas. you're spending a lot of time in a wasteland that resembles the wasteland of DC almost identically. weapons, armor, even some buildings look moved directly from the last build. really, i hate to just say it's a reskinned expansion, but that's what i'm feeling at this point. i'm going to play it through to completion, and i am going to get lost in every warehouse i see, examine every corner of every residence in every little broken down village. but i can't say i'll fall in love the way i did last time. but it is a good feeling to know there's a full landscape that is foreign and strange to me, and regardless of if i find the guy who shot me and left me in the ditch or not, i'll still be trekking endlessly through the dead desert. play fallout 3 first, skip it if you're on the fence, and if you loved the last one, definitely pick it up just to get the roaming legs under you again.
a year and a half ago when i saw a disheveled joaquin phoenix reportedly "performing hip-hop" in a club in vegas, i was instantly appalled. there was no way that the actor who nailed performances in gladiator and walk the line had made such a massive trajectory change in such a short period of time. no way. then the letterman interview came. at that point, i stopped paying attention to the spiral and wrote it off to Hollywood being Hollywood. i didn't look all that much into it, but last night, i saw that the movie was available as a rental so i watched the preview, and it was so much more involved than i understood. after watching the film itself, it was hard to tell if it was a documentary or a movie and what had actually happened... or if anyone involved had actually been 'in' on the joke or if there were a mess of people staring wide-eyed at this spiraling star the way i was. film-wise, it's a great movie, real or fake. totally get an interesting look inside The Celebrity World, all of it being completely candid, whether or not it was done on purpose. look more into it if you'd like, but i recommend checking out the movie first before you start trying to debunk it. i feel good about having watched it.
but then again, i still want to see the tom sizemore implosion film.
Sooo. I'll be honest.

This was initially a response to a facebook comment, and i went a little nuts. It made sense to throw it on here as well. And embarrassingly enough, i haven't updated in a minute. No myspace audio means no quick checking out of bands. Gotta do a little more legwork to make it happen. Believe me, i beat myself up all the time about it. Anyway, this is this:
--
CHRISTIAN:
...Bullshit ending...waste of 59 bucks...I beat that crap in less than 5 hours!
STEVE:
Medal of honor?
CHRISTIAN:
yep.
STEVE:
Well, we don't measure the quality of our drinks by their length, which is why we take shots... How was the quality of the game?
CHRISTIAN:
The AI is a joke and so is the difficulty....I had to purposely mess up a few times in order to kick the AI into action because they failed to activate an objective. The explosions, seriously?
It was fun and a breeze while it lasted but....
How can I judge anything positively when they leave you off with one of the worse cliffhanger endings I have ever experienced after a measly 4 and a half hours of game play? I had more of an experience out of the Sniper: Ghost Warrior. It was cheaper and I knew what I was getting into.
and anyone that buys games solely for multi-player should be rounded up and shot! Developers and publishers get away with this crap because of them.
This game screams "RUSHED"
STEVE:
Wowww. Crazy! I was feeling good about it thus far. I do have it on Hard difficulty after feeling like the Medium was holding my hand a little bit. The AI is hilarious, but it FEELS like they're idiotic insurgent villagers, so i thought i was being fair in tacking that on to realism. I dig the fact that the 4 man squads feel so legit, and you feel like a solid, important member of that team. I really like that a lot. But the team AI was really good, i felt. They're actually taking care of business AND YOU without being complete fools. I think that's clutch. For special agents/rangers/spec ops etc., they live up to it. I feel you can chill in cover for a while, pop up, and the number of targets has actually been whittled down. As far as the missions, though: BLAND. Call of Duty seems like it hired some real writers to give the homefront assault some urgency. The level in the suburbs? In DC? Shit like that was genius and it's important that it comes across as authentic as the guys at infinity ward was sure it would be.
Multiplayer? I agree. I'll ignore it 100%. That's not part of a game to me. That's allowing others to play around in your map making software.
This wasn't the game i was expecting to replace the call of duty as benchmarks for shooters, though i was definitely hoping for a few moments of awe. Which admittedly i haven't found yet. But with your review of the ending, i guess I'm going to feel far from than breathless. I've given up on video game endings though, as they often blow their load before the games are over.
Gonna keep vibin it. Based on you, i have at least another 2.5 hours.
New Linkin Park video for "Waiting for the End." The song grew on me after watching the video. It's probably because the video itself is pretty freggin' cool. Whatever. Click it.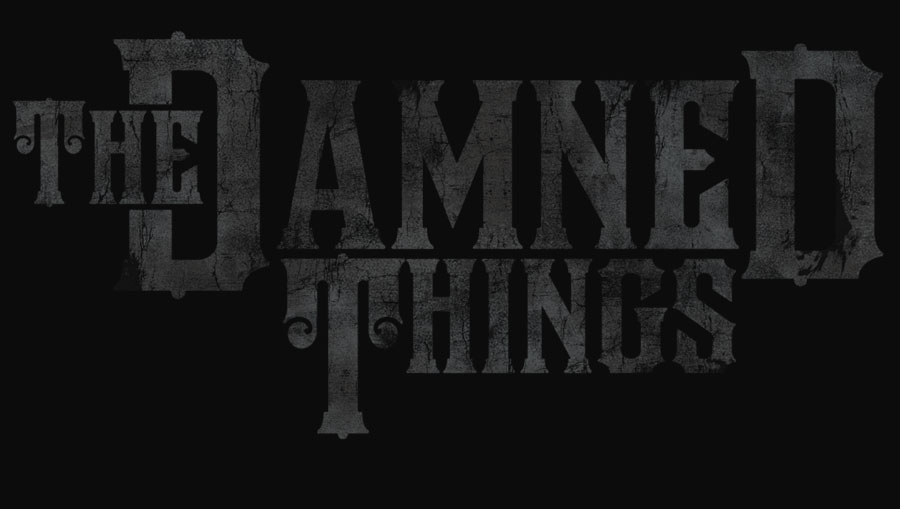 Most rock "supergroups" are overrated, let's face it.
Can you think of one that honestly wasn't a letdown?  I can't. (alright, Team Sleep I must admit I'm a fan of; The Dead Weather ain't too shabby either)
Well a few months ago, Steve and I got a chance to hit up the Knitting Factory in Brooklyn to see the first-ever performance of The Damned Things, who are as follows:  Keith Buckley from Everytime I Die, Scott Ian and Rob Caggiano from Anthrax, Joe Trohman and Andy Hurley from Fall Out Boy.  Their set was an intense mixture of catchy southern-tinged rock, inspired metal riffage and raw rock n' roll power.  The crowd they drew was also a very intense mixture.  If I were to pie chart it, I'd say it was 35% Hot Topic teens and tweens just going because 2 guys from Fall Out Boy were playing, 45% older metal dudes checking out the new project from Anthrax dudes, and 15% metalcore and hardcore kids who were die-hard ETID scenesters.  That extra 5% - some dude that looked like he was an extra from the Sopranos and his wife, a chick that might have been at the wrong venue because she looked like she was going to a club, and some other randomness.  Oh, how was the show?  Excellent, and tight too considering it was their very first time playing the songs live in front of a crowd.
The wait for the first release from this supergroup is over.  The album Ironiclast will be released on December 14th on Island/Def Jam, and it will be preceded by a 7"/CD single for the song "We've Got A Situation Here" on November 26th.
I'm definitely looking forward to this album, if not for Keith Buckley's involvement alone.  I really think that he's one of the most talented frontmen in the scene right now.  Not only for his voice and scream, but his lyrics absolutely set a new standard in quality that other bands can't even get out of the shadow of.  He puts 95% of the scene to shame with the brilliance of his words and how he uses them.  With his short-lived side project Finale basically done for, I'm glad we've got another avenue for Keith to shine in.
Check out 2 songs from the release HERE on their Myspace, and check out the link to their electronic press kit below.