Remember when action movies were just over-the-top and ridiculous? Yeah, it was the best. Then again, there were just some iconic movies from that era too, that didn't involve Arnold or Sly destroying everything in sight with one big gun. As "corny" as this song is, I love it. So, as a kickback to the 80s, enjoy some Kenny Loggins - "Danger Zone" and a brilliantly bad music video. Happy Thanksgiving everyone.
Celldweller Radio on Xbox 360 Last.fm
This past Tuesday, Microsoft finally released the long awaited update to integrate Last.fm's streaming music service into the Xbox Live dashboard. They also released the Twitter and Facebook integration as well. Compared to the Facebook and Twitter options, for a guy like me, the Last.fm option seems to be the most useful and best implemented.
The interface works well with the Xbox 360 dashboard and 'NXE' layout. Logging in was easy, and music starts streaming right away. This is especially useful for people that have their 360s hooked up to home theater systems and just want to blast some music in their living rooms. If you don't already have a last.fm account, head to last.fm and sign up. It's free!
Head over to Kotaku for their in-depth hands-on with video.
The only thing missing is background streaming so you could listen while you play games. Maybe they'll add that later on? Either way, awesome update.
Melody Gardot
something entirely different. i was trying to find a version of the song "beautiful dreamer" sung by a female vocalist, but was finding it extremely difficult. i started straying from the path and getting distracted by random stories of vocalists etc. i was instantly caught up by a story of a girl, this Melody Gardot, who was riding her bike through Philadelphia and was struck by an SUV making an illegal left turn. she was in the hospital for a year in a body cast, and while in the hospital she was told to use music therapy as a way to reconnect her neural pathways. unreal. and we are now left with a completely legitimate jazz-styled female artist with a huge helping of soul. head over to her myspace to get a good listen to what she's about. and while it's not the standard fare that we're used to discussing around these parts, i think this is a very welcome departure from the norm.
Ever since my first Audiovox cell phone on the MCI WorldCom network, I've had a dozen or so different phones and plenty of others that I've played around with and read about. Enough with the preface, as I've had my iPhone 3G since August of last year. Everyone seems to have an iPhone these days, because there really wasn't any solid competition, until now. I mean, granted, the Palm Pre kind of tried, but it fell short in terms of speed and performance. So, here we are and on November 6th, Verizon released the Motorola DROID running Android version 2.0.
If you don't feel like reading specifics, the bottom line is that if you're on Verizon, get the DROID. If you're on AT&T, get the iPhone. If you're on neither, get the one that works where you'll be using it (probably the DROID since AT&T's service has just gone down drastically). Then again, if you have no use for an internet-mini-super-device, then get whatever your heart desires or whatever you have, keep using that. Props to you.
My initial pros/cons of the DROID (mind you - I love my iPhone):
Pros:
+Beautiful screen and bigger than the iPhone's
+Verizon Wireless network - more reliable than AT&T's and at least in New York, it's faster, regardless of AT&T's claims
+Physical keyboard for the folks that need that - I personally wouldn't use it
+5MP camera with dual-LED flash (currently the software sucks to use it, but I'm sure with some software tweaking it'll be awesome)
+Google Maps with Voice Navigation built-in (no need to get a TomTom or Garmin - as it's built into the phone without extra costs)
+Android 2.0 OS (Android is really becoming a mainstay OS and is definitely going to provide good competition and a solid alternative. Forget Windows Mobile. They've been done for years.)
+16GB MicroSD card, replaceable with other MicroSD cards, up to 32GB. Carry around a dozen different MicroSD cards filled with everything you ever need to listen to.
+Fast - really fast, as in the same processor as the iPhone 3GS
+Replaceable battery - not like many people are going to, but at least the option exists.
Cons:
-Aesthetically, it looks solid and good, but not as polished or as sophisticated as the iPhone. It's easy for it to blend in with the rest of the smart phones out there.
-Limited App availability at the moment. Apple boasts over 100,000 apps, and the Android Marketplace has approx. 10,000. Not bad, and I'm sure this will be fine overall but just in the sense of a numbers game, something to consider.
-The apps get installed on the built-in 256MB internal memory, vs. the 16GB MicroSD card - this makes no sense, as the iPhone stores its apps, music, video, etc. everything onto the overall storage. I'm sure Google can address this and fix it with a software update, but it was a poor choice in hindsight.
-Not a major issue, but unlike 3G GSM, on Verizon's network, if you're on a call, and want to look up something on the internet using data while the call is in place, it has to be on WiFi, as both data and voice cannot work concurrently on the CDMA network.
Overall, it's pretty clear that the DROID is an awesome device and I recommend it to anyone that doesn't want an iPhone but a device of its caliber and not on the AT&T network.
the new sherlock holmes movie is directed by guy ritchie. it stars robert downey jr. as holmes and jude law as watson. also, rachel mcadams happens to be the female lead. i know you may have known this. but it all needed to be tucked tightly together in one sentence to really give you that full battering ram feeling of just how powerful it can be. and a dope new trailer can be seen right over here. oh. and rachel mcadams. oh. and rachel mcadams.
i also just came out of seeing the men who stare at goats. i don't think i will ever get used to ewan mcgregor speaking with an american accent. after making trainspotting part of a regular movie watching routine of mine for SUCH a long time, it's just never going to sit right. i will never really know how legit it is, because it will always sound wrong. he played the part well, but clooney really had it nailed down. it wasn't as hilarious as i expected it to be. i went into it thinking it was going to be a completely absurd romp through irony (think burn after reading with psychic powers) but it ended up being a pretty slow, detail oriented film. there were some beautiful desert shots to be found, most notably the complete desolation juxtaposed with some crystal clear skies. well played. while i didn't get what i came for in this movie, i did get a fairly entertaining look at a supposedly "true" (just not sure how much was exaggerated) piece of the military and their grand entrance into the world of psi-ops. i'd say skip it unless you have the genuine interest in the film itself. the spacey is in it, too. as is the dude.
also, i got a heads up through a ton of facebook updates as well as through a txt from Brian that the clash of the titans teaser is looking brutal. i'm hoping they give it enough mythic qualities while keeping it safely clear of uber-metal-video. the harryhausen version was something that i had on vhs and would watch as a little guy and have a very special place in my head/heart for the movie and some specific scenes i hope they get right. but hold on tight. that movie can't NOT be enormously epic.
i also saw a trailer for a movie called the crazies. i HATE the title, but it looks like it'll be a good take on zombie movies. it's got a little bit of the happening, a little bit 30 days of night, and a little dawn of the dead action going on. trail it up.
lastly, at least as far as movies go, i was told about a movie called let the right one in. did a little looking, and apparently, it's being touted as a pretty legit vampire movie. could be a good counter to that other thing coming out next week.
i had a pretty decently sized list of things to talk about this time around but i'm going to have to cut it short with movies. i am currently experiencing difficulty with my "a" key, and am only able to use the letter by ctrl+V-ing a copied letter a. ridiculous. yo, check out those trailers, and get back to me on whatchoo thought of them and what else i need to see.
DO IT.
Remember way back when (read: 2 days ago) when I mentioned Celldweller? Well, there's more info on the 2nd release of the latest EP release, Wish Upon a Blackstar Chapter 2 will be releasing in just under a month's time. The album's artwork is currently being worked on and more information regarding the release and the remaining parts of that can be found over at celldweller.com.
Fear Factory are back! Not only are they back, but Dino is back in the band (insert car crash sound effect)! They have a new song up, called "Powershifter" and this will be on their newest album which drops on February 9th, called "Mechanize."
Honestly, you have no idea how pysched I am for this.
Paper Bird
picked up on this band just yesterday. they're a seven piece folk/americana band out of colorado. there is a lot of focus on harmonies and the strengths of having a BUNCH of people in a band at once. with a banjo in the mix, it definitely lends itself in little pieces to a bluegrass feel, but it isn't overwhelming. the sound they create has a purity to it, lots of serenity. i bought the "a sky underground" EP from iTunes last night, and will most likely be going forward in purchasing their full length in the near future. their style is something definitely different for me, but for some reason, they work.
missed out on a lot of updates for a few reasons, the main one of which is laziness. another huge reason is lack of interest not just from myself, but from the demographic, the former fanbase of this blog. but a contributing factor has definitely been the fact that my myspace flash player does not allow me to stream music anymore. obnoxious. so i'm going to throw some things at you and see what sticks, and we can go from there.
- closure in moscow is unreal. you can try out their first EP, but "first temple" is unbelievable front to back. (link)
- inversely, eye alaska had an incredible debut EP, "yellow and elephant." earlier this year they released "genesis underground." PURE TRASH. it makes me almost embarrassed to say that i even enjoyed the band at one point in their brief career. (link)
- winds of plague? oh wow. WOW. unreal. (link)
- night fevers sounded pretty good when i checked them out on a flash player somewhere. i'm not sure how i tracked them down, but it involved danny and jack from show me action. is anything else going on on long island? anything? (link)
- brand new's new record is golden. (link)
- i recently fell in love with portugal. the man's "it's complicated being a wizard." i had to work my way back on that one. i didn't 'get it' at first, i guess. maybe i just expected something different. but i grew into it. and OH yes. i actually saw the band a couple of fridays ago. what a phenomenal live band. they retranslate things that they've already done so well, and throw a whole new filter on the tracks, still keeping the flavor of the band and song in tact, but giving it a whole new culture. (link)
- at that same show, i was introduced to temper trap who were great live, but who doesn't seem to translate all that well on record. (link)
- uncharted 2 is now new holder of GAME OF THE YEAR honors, beating out batman (which i held in VERY high regard) hands down.
- call of duty: modern warfare 2 comes out this upcoming tuesday, and it might take down the aforementioned title. but we'll have to wait it out patiently. i'm worried. real worried. that game is going to explode.
- left 4 dead 2 and assassin's creed come out the following tuesday. i'm definitely grabbing the zombie invasion title on the day of, but still haven't taken out AC1, so will most likely hold off on it for a minute or two. oh, and little big planet psp comes out that same day. YEESH.
- a sleeper hit that i'm really feeling excited about for the holiday season is the saboteur. check out a trailer over here.
- i just picked up dragon age: origins today and have been getting pretty deep into it. it's a game that feels like it will suck me in down to the knees. i'm kind of worried about the timing of its release, but if you're into fantasy titles with magic and swords and, yeahhh, ya know, dragons, this is a clean, polished title for you to check out. lots of classes, a nice thick universe to draw mythology from. solid.
- saw the newest coen brothers movie, a serious man the other day. it had its moments. didn't really meet the expectations i'd set for it, but it did come through idiosyncratically.
- i also just saw bonnie & clyde (yeah, the 1967 warren beatty film) and i really got into it. very well done movie.
- the men who stare at goats has me subscribed. let me in.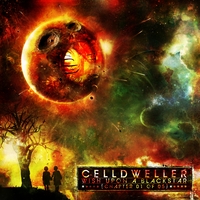 So, lately, I've been listening to a lot more electronic music - more industrial/electronica/techno/dance/ whatever you want to call it. A band, well - more of a guy since he does most of the work by himself, Celldweller, just released a new EP titled Wish Upon A Blackstar Chapter 01 of 05.
I haven't checked it out yet, but I'm very excited to. I've played the albums, Soundtrack For The Voices In My Head, Vol. 01 and the self-titled album a countless number of times. You'd be surprised. There's probably at least 1 song on each album that can be enjoyed by anyone. The albums have a broad range of music, but ultimately holding onto the foundation of electronic/industrial music. Definitely scope it out if you dig Nine Inch Nails or Orgy. It may not be anything like it, but you may hear some resemblance here or there.